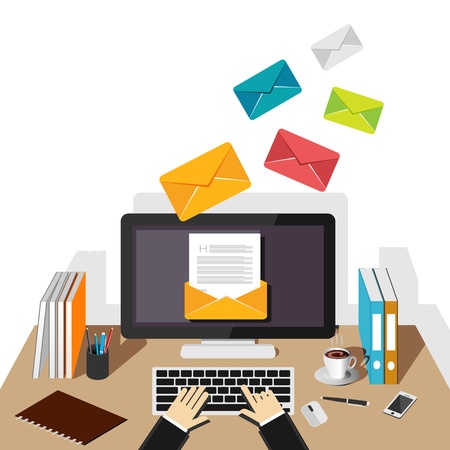 In my previous posts I wrote about RSS and how to automatically push out your Blog Posts to an email subscriber list.
In this article, I want to tell you about the MailPoet Plugin for WordPress and how awesome it is – particularly for small businesses looking for a way to either mass email their existing client base; or create various email lists for various email marketing campaigns – all done directly through the WordPress Dashboard.
Emailing Existing Clients
In my business, I had a problem to solve and this was how to mass email my client base when I wanted to communicate something that affected all clients, or just a segment of clients.
In that case I had two alternatives:
(a)  Mass email them from my normal email account which meant going through the client list and adding each client to the BCC line in the email;
(b)  Adding their email addresses into MailChimp and sending out a campaign via the Mailchimp Dashboard.
With Option (a) and (b) above, I found both scenarios too time consuming and clunky.  I wanted a simpler and easier option as this is something I have wanted to streamline for a long time.
Around the time that I was thinking about how to solve this problem, Elegant Themes published a terrific blog post about Email Plugins for WordPress.  I tried one and didn't like it.  The next one I tried was MailPoet and I have to say I just love it.
Here is what you can do with MailPoet:
1.  Create a custom email template
You can use the Basic Template to create a half decent looking email template to go out to your client base by inserting a nice header image into the first email you send out.
Once you've created one email to be sent out, you can then copy this email, delete the content and add the new content for your next email.  What this really means is that once you've created an email you are happy with – that can be your template for all future emails, as you can duplicate any sent email in MailPoet, and then modify the content.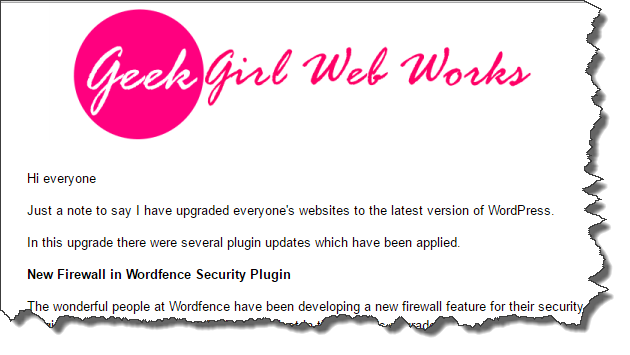 2. Create all the Lists You Need
I suggest you setup your first list name as something like "Clients" and then add more lists if you need them.
In my case, I made a few more lists such as "Divi Theme Users" and "New Clients".
Once you have setup your List Names, you can then start adding subscribers.
Below is a screen shot of how to add a List name.  You can add as many lists as you need.  You can add more lists later if you only need one to start with.  Subscribers can belong to multiple lists with MailPoet as well.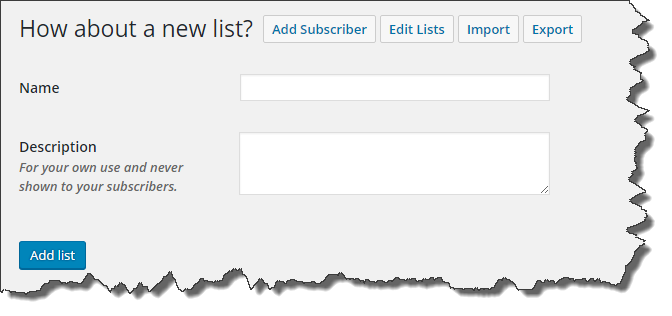 3. Add Subscribers To Your List
No doubt you already have a list of clients you want to email so you can add them directly into MailPoet.
You can add them manually or import them from a .CSV file.
If you only have a small amount of email addresses you can add them one at a time.  In the image below you can see how easy it is to add subscribers to your list.
As you add subscribers, you can also select which Lists you would like them to be on.
My First List is a default list in MailPoet.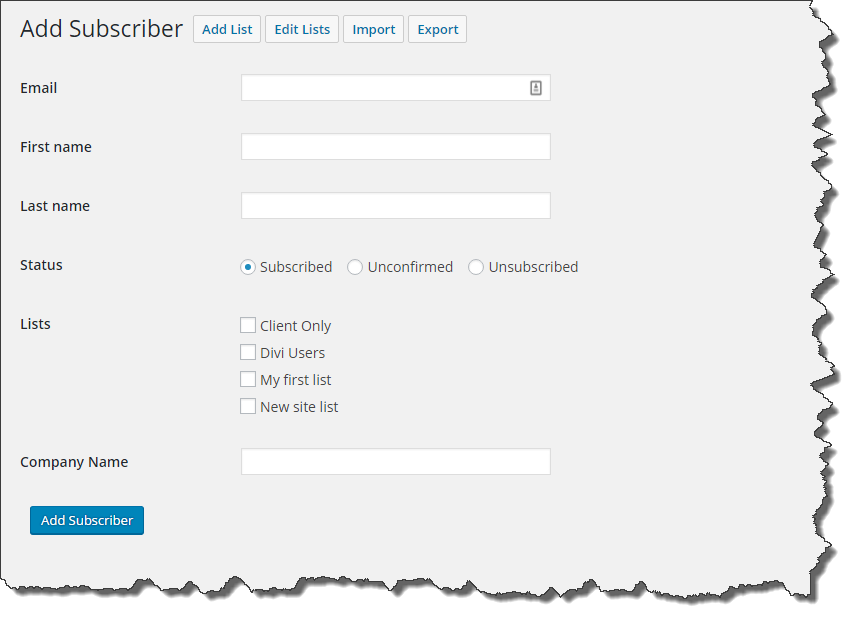 If you have a lot of email address to import, you can use the Import List feature and either:
 Add the email addresses into the text box as shown in the example below; or
Import a list from a .csv file.
A .csv file is similar to an Excel or database file, but it's extension ends in .csv, not .xls or other Excel formats.
However it looks similar to an Excel file in that you can create and open a .csv file in Excel.
A .csv file would have a Table of Columns such as First Name, Last Name and Email Address and any other Fields you would like included in your list.
If you don't have any experience exporting and importing .csv files it's probably easier to copy and paste all the email addresses you want to add into the Text Box.
Use the format exactly as shown in the example below.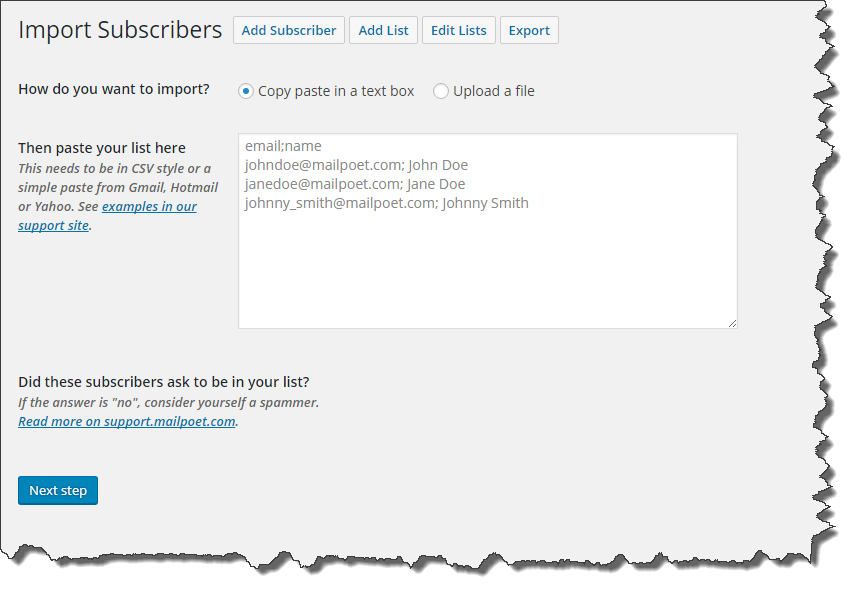 4.  Configure MailPoet Settings
Before you can mass email your clients, you need to configure some settings, such as:
 Your Company Name
 The Name and Email Address you want to send from
In the screenshot below you can see that there are various fields under Settings that need to be completed before you can send out email via WordPress.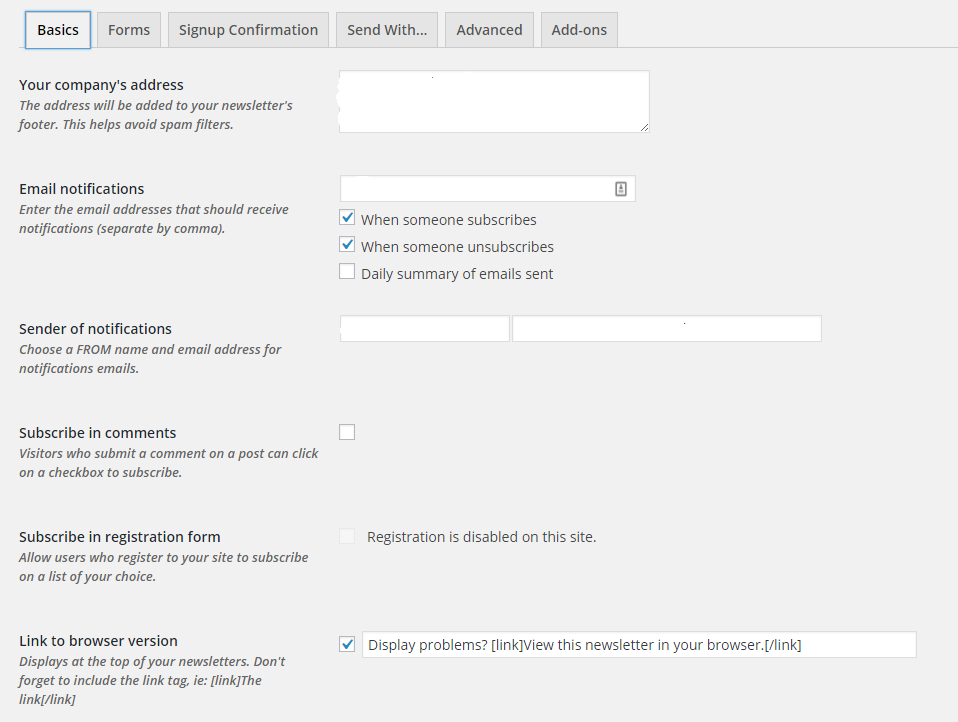 5.  Send With Options
There are two ways to Send email with MailPoet.
The first is to send it out via your Hosting Account's email server.  As most Hosts place a limit on how many emails you can send per hour, Mailpoet will calculate how many emails you can send using your Hosting email service.
If you use your Host's email servers, and you need to send more than the host allows, MailPoet will send your emails in batches each hour until they are all sent.
If you want to use your Hosting Email Server to send your emails, configure the email settings on the Send With screen (see screenshot below).
The second way, and probably more efficient for reliable delivery is to use SendGrid.
With SendGrid.com you can setup a free account where they will allow you to send up to 12,000 emails per month.  This will be perfect for most businesses that only have small lists but still want to utilize a professional service to send email.
If you want to use SendGrid.com – follow these instructions from MailPoet.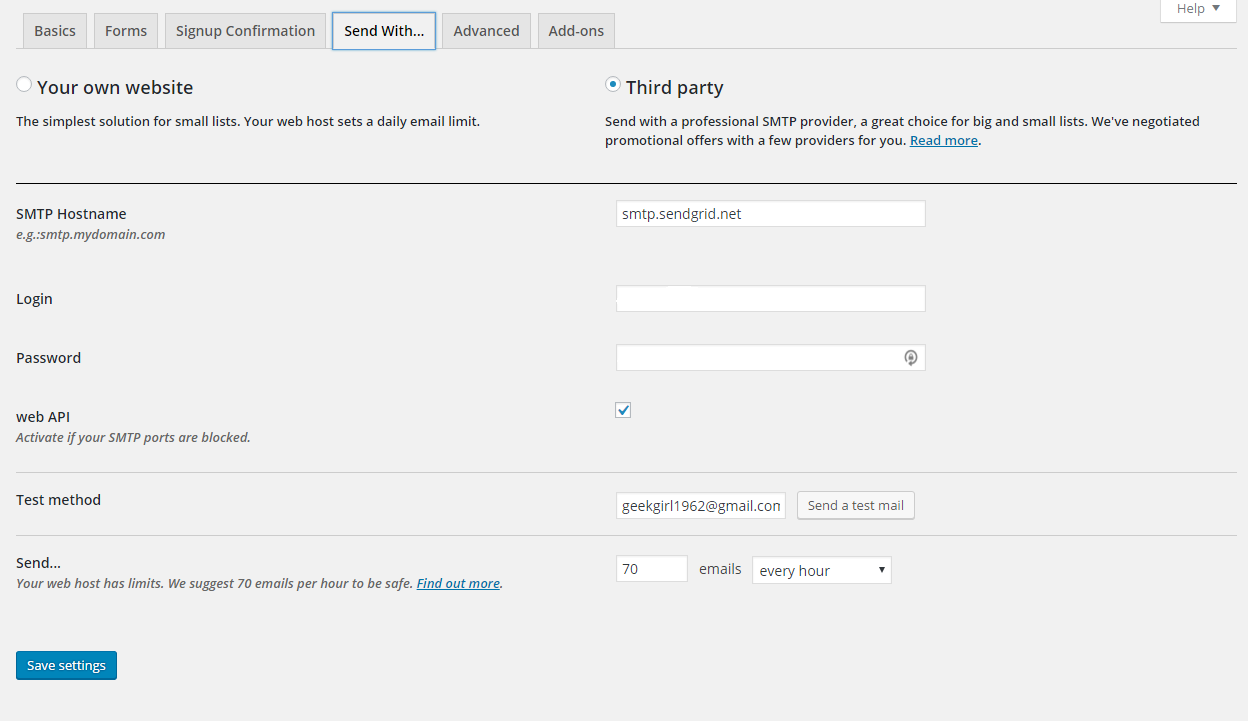 6.  Be Aware of International Anti Spam Laws
In order to mass email any list, you need to have the person's permission to email them.  In the case of my clients, I do believe they expect to hear from me periodically about such things as:
(a) WordPress Upgrades
(b)  Plugin and Theme Updates
(c) Anything that can make their website better than it is.
In this case, I only use MailPoet to communicate with REAL clients – not prospective clients or people I know.
In any other case, you need to get their permission, or have them sign up on a form on your website to comply with International Anti Spam Laws.
You can also configure Forms and Lists within MailPoet to email your website visitors and people who say they want to hear from you by filling out a subscription form on your website.  Setting that up is not part of the scope of this article, but you can go onto the MailPoet website and refer to the help section for more information about this.