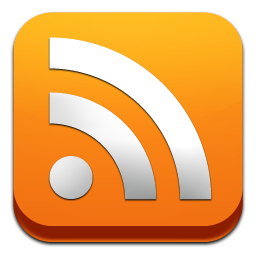 Once WordPress is installed on your hosting, an RSS Feed address is automatically generated.  There are two easy ways to discover what your RSS Feed address is.
1.  Hold your mouse cursor over any RSS icon on your site.  It should display your RSS Feed Address such as https://geekgirlwebworks.com.au/feed.
An RSS Icon will look something like the image left.
RSS icons are almost always in Orange and depicted with the dot and the semi circular lines.  If your WordPress site does not have a Feed Icon displayed the other way to discover it is to view the source code on your site.
2.  Every web browser has  a way to view the source code.  Navigate to your WordPress site's home page with whatever web browser you use and then look at the source code.
In Firefox's menu navigate to Tools, Web Developer and then Page Source.
In Internet Explorer's menu navigate to View and then Source.
In Chrome navigate to More Tools and then View Source.
The source code is the raw code that makes up your website page/s.
Look for the Feed Address.  Below is the RSS Feed Address as displayed in my Firefox Browser for my site.  I have underlined the feed address in Red.  Note that you only need the part that starts with http:// so in this case the correct Feed Address I am looking for is http://geekgirlwebsworks.com.au/feed/

3.  Now that we know the Feed Address, we can configure the RSS Widget so that you can display this in the sidebar of your Blog page.
To navigate to Widgets in WordPress you need to select Appearance and then Widgets in your WordPress Dashboard Menu.  These should be displayed on the left hand side of your WordPress Dashboard.
Then you will see a page where all available Widgets are displayed.  Look for the Widget called RSS and drag it to the sidebar you want to display it on.
Once your RSS Widget is in place you need to configure it.
Here is a screenshot of my RSS Widget which has already been configured.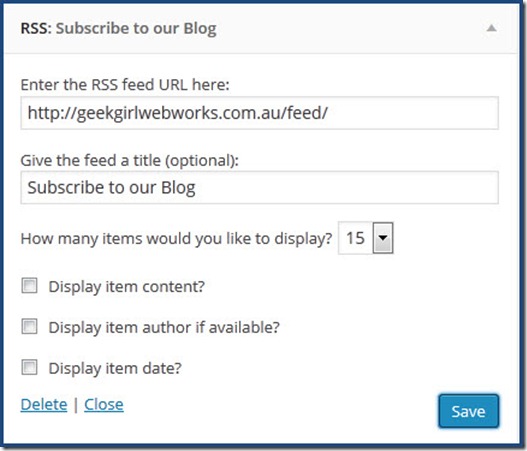 Once you save your RSS Feed Widget it will automatically display in the sidebar that you dragged it to.  If your Theme has multiple sidebars you can repeat the process if you want to display it on other sidebars.
Now what you've just done here is configured the part where people using Feed Readers such as Feedly can subscribe to your Blog posts and everyday Feedly will update their Feedly Reader with your latest post or posts if you've published more than one.
Feed Stats
There is another way to configure your Feed and that is setup through a service called Feedburner.  A cool feature of Feedburner is that you can log in to the Feedburner dashboard and view how many subscribers you have to your site.  This post does not cover setting up with Feedburner but I will make a post on doing that soon.  Also don't worry about using this method first.  If you opt to setup Feedburner later it won't be a problem having set this up already.  We will only need to modify the Feedburner Feed Address in the above widget and if you do setup with Feedburner they will re-route your Feed Address to a new one generated by them.
In this instance we are aiming for a simple RSS Setup so that at least people using Feed Readers such as Feedly can subscribe to your Blog Posts easily.  In this simple setup we don't know how many people are subscribing through RSS but we can install a Plugin to obtain this information and view it in the WordPress Dashboard.
The Plugin I recommend is called Simple Feed Stats by Geoff Starr.  If you are going to install a free Plugin for this purpose, make sure you install one that is compatible with your version of WordPress and that the developer is regularly updating it.  I have used other Plugins developed by Geoff Starr and I note he has a history of updating his plugins which is great.  Thank you Geoff Starr!
Once you install Simple Feed Stats you need to make some choices on the setup page.
To find the Simple Feed Stats page look under Settings, Simple Feed Stats and select it in your WordPress Dashboard.
At this time I do not want to display my RSS Feed Subscriber count on my site so I am not going to discuss those options here.
However, I do want accurate reporting and I do want to know how many real people are subscribing to my Blog, so under Options in Simple Feed Stats I checked the following options.

Display Your Feed Stats On Your Site
If you do want to display your Feed Stats on your Blog there are a number of Shortcodes you can use.  A Shortcode is a set of square brackets with instructions in between them.  They can be used in Posts, Pages and Widgets depending upon what the Shortcode does.
To find the available Shortcodes for this Plugin, navigate to Template Tags and Short Codes within Settings – Simple Feed Stats and use the Shortcode appropriate for the function you need.
For example you could drag a text widget into your sidebar and use a Shortcode to display the number of Subscribers to your Blog.
Tip:  Don't use the PHP codes unless you know and understand PHP and what to do with it.  Shortcodes are for non-developers and people who don't understand programming, so use Shortcodes as they are the easiest to work with.
View Stats in your WordPress Dashboard
This plugin will put the Stats of your Feeds into your WordPress Dashboard.  Below is a screenshot of the Dashboard Widget.

I plan on writing two more posts on RSS so subscribe to my Blog if you want to get those.  One will be on Feedburner.  Feedburner is useful if you want to offer your Blog Subscribers the option to get your posts by email.  Also the other option that you can offer using email subscriptions to your Blog is by using MailChimp.  Each one will need a separate post of it's own to explain how to set it up.
With this site I use the normal RSS method for Feed Readers and I have also configured MailChimp to send out my Blog Posts as email newsletters for those who opt to subscribe that way.  What I like about the Mailchimp option is that you can design your newsletters to look like your site which is pretty cool.
I should also point out that for my clients who plan on Blogging regularly I setup this for them.
Related Posts: