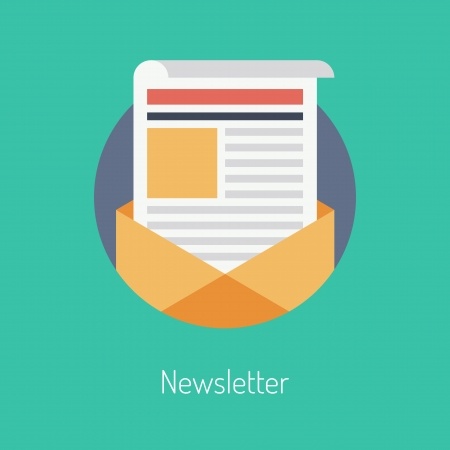 In my previous post about How To Configure RSS for your WordPress Website, I promised I would add another post about RSS via email.
Now that we understand that RSS is a feature of most blogging platforms that can send your Blog posts to subscribers, in addition to people subscribing via a Feed Reader such as Feedly, you can also give your subscribers the option of subscribing to your Blog Posts via email using RSS.
This means that whenever you publish a new Blog Post on your WordPress site, your subscribers will receive an email with the content of that  post in an email.  In this post I will discuss the two external services that I have used for clients.
FeedBurner
FeedBurner was bought by Google many years ago and so if you already have a Google Account you can do a search for FeedBurner and log in with your Google Account.  If you don't have a Google Account you will need to create one.
The first thing you need to do in FeedBurner is burn a feed.  This means locating your WordPress Website's RSS Feed Address and inserting that on the the FeedBurner setup page.  Google will then redirect that feed address  to a new feed address that they create for you.
In FeedBurner you need to go through all the setup steps to configure your feed, activate some services, and then locate the code to embed on your Blog page for subscribers to sign up.  Typically this sign up form is placed somewhere on your Blog page's sidebar.  Simply use the Text Widget in WordPress and paste the sign up form embed code into it.  You can also edit that code if you need to adjust the width of the form and make any other changes you wish.
Inside FeedBurner you can also edit the colors and fonts used on the email although it's more difficult to give it a really professional polish.  That said, it's the Content your subscribers are looking for so FeedBurner handles the job nicely.
MailChimp
MailChimp is an email newsletter service, but it also has the added advantage where users can setup an RSS Driven campaign.  MailChimp also gives users a very generous free plan, so check it out.  You can gather a lot of subscribers before you start paying.
The other advantage of using MailChimp over Feedburner is that design wise, you can design your email template to look like your website.  FeedBurner's design options are not as pretty as MailChimp.
After you've created your MailChimp account you need to create a new RSS Campaign.  There are about five or six setup steps to setup the campaign, so you will again need to locate your RSS Feed Address.  During the setup phase you will also need to design the email template so for example you may need to create a new header image for your template, and get hold of the color codes your site uses.
When you choose an email template to design from, make sure it's an RSS Template.  This will insert most of the code you will need into the Email template so all you need to do design wise is choose your colors, fonts, and insert your header image.  The design phase of your email template is the longest part.  If you don't have time to finish it, you can save your work and come back and finish it at a later time.
Also during the setup phase you can send yourself a test email.  In the test email MailChimp will grab the last Blog post published on your site and send it to you.  Once you receive that email you can make any last minute layout or design changes.
The final phase of setting up an RSS campaign is to confirm the campaign and then hit the Start RSS button.  Now, every time you publish a new Blog post, that Blog post will be emailed out to your subscribers on the professional looking template you designed.
Now that your RSS campaign has been created you need to also find the embed code for a sign up form and embed it in a Text widget on your WordPress site.  MailChimp will generate a fairly large form so what you also need to do is reduce the width of the form so that it fits nicely in your sidebar.
You add the embed code exactly as I described above.  Drag a new Text Widget into your sidebar and paste the sign up form code there.  If you're not sure how wide your sign up form should be, just experiment until you get the dimensions right.  MailChimp has options at the side of the form setup to change the form dimensions.  Start with say 300 px wide and reduce or increase as needed.
Why use RSS instead of an ordinary email Newsletter?
This is a great question.  If you've read any of my other posts on here you'll know that Google loves websites with lots of great content.  So one strategy for business is to make your website and it's Blog the main source of all your business content.  You need to Blog for SEO reasons so why not make this your newsletter as well?  It saves having to come up with two different sources of content – i.e. one for your Blog and one for your newsletter.
Yes there are cases where you want to send newsletter type information to only your customers.  In that case you can always create a Regular Campaign in MailChimp and send that out to your Customer List.
Email Rules, Regulations and Legalities
All Bloggers and website owners should understand that generally speaking, you just can't add people to your email list unless you obtain their permission first.
Most countries have laws to fight against SPAM.  SPAM is considered unsolicited email – email you did not sign up for.
Therefore, with either FeedBurner or MailChimp your subscribers need to validate their email address before they are added to your list.
When people fill out the subscribe form on your website they are sent a confirmation email which asks them to click on a link.  This confirms to the email service that yes, this person does want to subscribe to this content.
The email also says if you did not sign up to this list, to ignore it.
In this way, anyone subscribing from your website becomes a genuine subscriber.
If you have an existing client base, it's probably okay to add their email addresses to your list, especially customers that you communicate regularly with.  I should also explain, you can manually add subscribers to your list, or import them from a spreadsheet directly into MailChimp.  (I don't think you can manually add subscribers into Feedburner).
What I would do though, where you are adding email addresses yourself, is just send them an email and say something like "Hey Bob, I am just letting you know I've put you on our company's email newsletter list, if you do not wish to receive these emails there is an unsubscribe link at the bottom of the email".  Alternatively just email them and ask them for their permission.
In this way you protect yourself from customers becoming cranky at you.  Or, the first time you send out an email Newsletter to existing customers, make sure you tell them you added them to the list and if they don't want further emails they can unsubscribe.  In fact you could make the first email purely about that.  That way you start with clean and happy existing customer list.
It's important to understand that some people get stressed out from Inbox overload and I don't blame them.  As much as they may love your Company, they may not want email newsletters from you so be open and transparent with them and save yourself the grief of complaints.
Strategies to build a subscriber list
Your website visitors need a reason to subscribe to your email newsletters.  A lot of sites use enticements such as a free give away for signing up or they hold a competition.  On the competition angle, if you are at a Trade show or exhibition this is a great place to get subscribers.  Offer a competition to be in the draw for [a prize] which entices people to get onto your list.  Or if you are speaking somewhere do the same thing.  Have someone other than yourself signing people up to your list after your talk.  People love incentives.
On the website itself, you could offer something like "each month, quarter, half year, year all email subscribers go into a draw to win [a prize] " and make it something pretty enticing or valuable.
So many sites are doing the free eBook thing now and whilst it does work in some circumstances it may not generate great results.  In this regard the Content of the eBook must be really valuable to the subscriber and not just some recycled information that your visitors have read before.
Pop Up Forms
Unless you have a really high ranking site with lots of visitors daily, you will most probably find that not a lot of people sign up.  A lot of websites use Pop Up forms to encourage people to sign up and from what people say they can and do achieve results in some situations.
However personally I am not a fan them.  To me there is nothing worse than landing on a site for the first time and finding this big pop up form in my face.  I haven't even read their content yet.  How can I possibly know if I want to sign up?
If you are going to use Pop Up forms I suggest using something so that it's not so intrusive.  There are lots of WordPress Plugins that handle Pop Up forms.  I would be inclined to find one that only popped up once a visitor was leaving the site.
A final word of encouragement
If you are going to go through all the loops to set this up, or you hire someone like myself to do it for you, make sure you are prepared to or are in the habit of Blogging regularly.  Yes I am guilty of not Blogging very often, particularly in the early years of my business.  I was so busy building sites I didn't have time or energy to Blog.  This year I made myself a new year's resolution that no matter how busy I get, I will make time for Blogging.  If I don't lead by example, how can I expect my clients to do the same?
Lastly setting this up involves a lot of time.  If you are going to do this yourself, do it when you are mentally prepared.  There's a lot to learn and it's easy to become distracted or give up when it all gets too hard.
It takes a lot of time and testing the first time around.  I put off learning MailChimp's RSS campaigns because I knew it involved a lot of time and effort.  I had to wait until I was clear before I could focus on it properly.  Even now, setting this up for a client is no small job.
For this reason I encourage clients to get into the habit of Blogging regularly first.  What is the point of spending all that money setting this up when you do not Blog regularly?  Yes, time is something we all wish we had more of.  However, you really do need to make the time to get familiar with how to Blog and get into the habit of Blogging regularly for your RSS campaigns to be effective and to build a good size subscriber list.
Related Posts